Mission Control freedom – Mavericks observations…
Mission Control was a feature added in Mac OS X Lion as an upgrade to the Exposé feature that was introduced in 10.3 Panther. It was done to accommodate Lion's full screen apps. It simply brings forth every single open app in one screen. All the full screen apps, along with the Desktop workspaces and the Dashboard are lined on the top of the screen and the closest Desktop apps occupy the major portion of the rest. Exposé now only exists as a vestige that can be invoked on a per app basis by adjusting the option in the trackpad settings.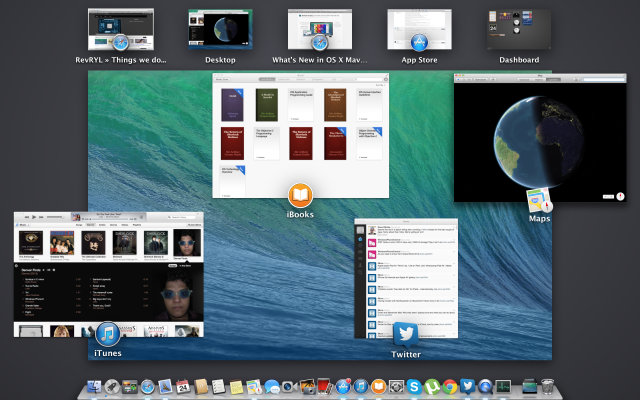 Mission Control evolution
In Lion, full screen apps worked like a stack starting from the right stacking leftward. On activating Mission Control, the apps would line up and be easily invokable. In addition, full screen apps could be moved left or right, but not too far left. The first two always had to be the Dashboard and the Desktop 1. Calling forth an application from the dock won't automatically adjust the app stack for optimal use. They'd continue to remain in the same stack unless they were manually moved in Mission Control.
In Mountain Lion, full screen apps allowed for easy access to most used apps. If a far away app, say full screen iTunes was on the extreme right side with a couple of full screen apps between it and the desktop, calling a desktop only app like Finder would move iTunes all the way next to desktop in the app stack. It was cool, since if you deviate from your work for a moment, you can get back in the least four finger swipe possible.
Mavericks' Mission Control
In Mavericks, now along with continuous auto-stacking, Mission Control allows you to move the first desktop and the dashboard wherever you like. Technically, the image above should have been your first clue.
This is a pretty cool feature because I'd normally want iTunes, Quicktime, and media players on the left side of the desktop and productivity stuff on the right. Now, it's really happening. Pretty cool, huh?!
You might want to see more of our insights on Mavericks, so stay tuned.
So, Mission Control freedom – awesome or eh? Sound off in the comments…