Charms – Windows 8.1 preview observations…
Windows 8 introduced the Start Screen, as it did many other things – full screen Windows 8 style apps, Charms, a more intensive touch based interface, the Store, XBOX games for Windows, etc. To me, that's everything I could do in one package. It, in addition, does what no other touch OS can do – viewing two apps at a time. Of course, Windows 8.1 now changes that to allow a maximum of four apps per screen without any possible disadvantage of the side view. Still, until the latest update gets to it's full release, most users would have got used to, if not already, the side-snapped view.
Now, this changes everything. First, we had apps with a full view and a side view. Every app had the exact same side view length and only two apps could be active on the screen at a time. If I ever used charms in this situation, every charm would provide me options that pertains to the app in the full-view.
Windows 8's handling of Charms
Here we have two apps split Windows 8 style. Code writer is in its 320 pixel snapped view. Twitter takes up the rest of the full HD screen. Share Charm picks Twitter.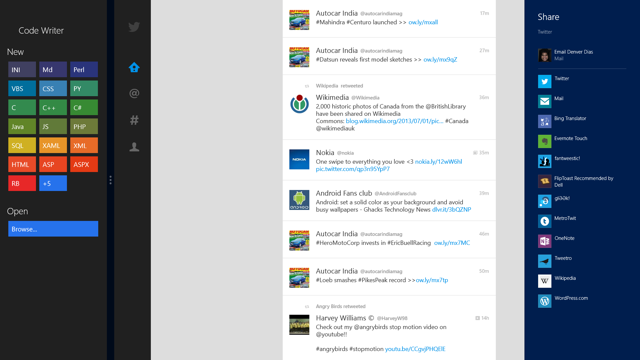 Of course, Twitter incidentally is the one on the right – the closest one, visually, to the charms. However, any app that is larger gets the focus.
Windows 8.1
There is a lot of stuff I was able to make out of Windows 8.1 in the first boot itself. However, Charms seemed to have some ambiguous behaviour when it came to multiple apps. It was unclear which app would be focused on when invoking charms. Sure, Windows 8 did it in the most obvious of ways, but we definitely can't expect the same from Windows 8.1 now, can we?
Here is an example, demonstrating what happens. I've opened up the People app and next to it Internet Explorer. Internet Explorer was opened last.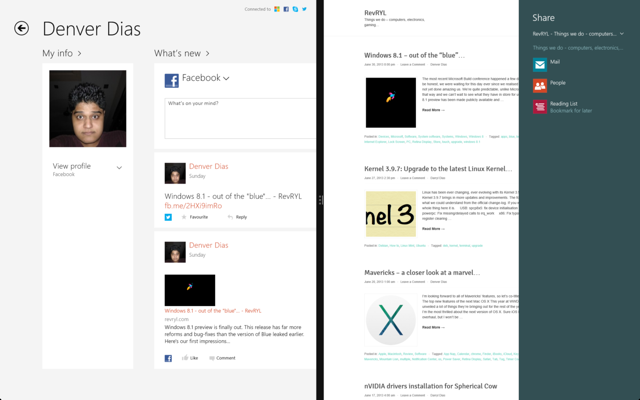 After this I did a bit of scrolling in the People app. The charms continue to focus on Internet Explorer.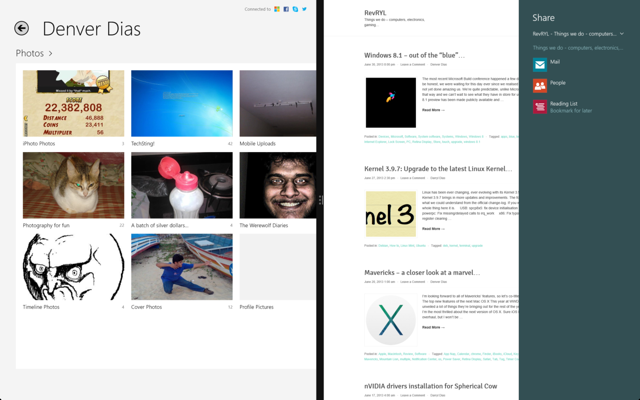 Once I've clicked within the People app, though, all charms focus on People app. So, any theories that suggest the right-most or the alphabetically prior is focused on should be discarded.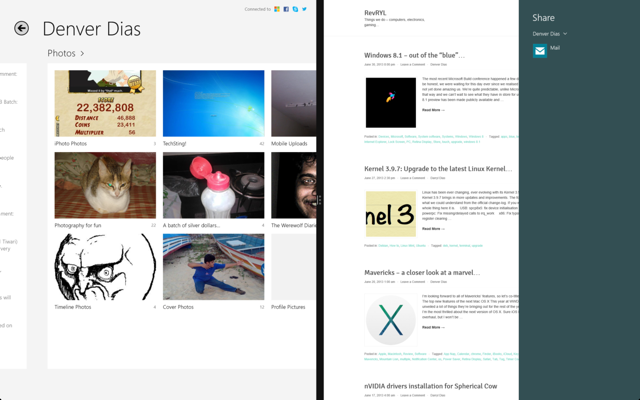 As expected, scrolling in Internet Explorer, won't shift the focus from the people app. Obviously the last clicked app would be the one that is considered current.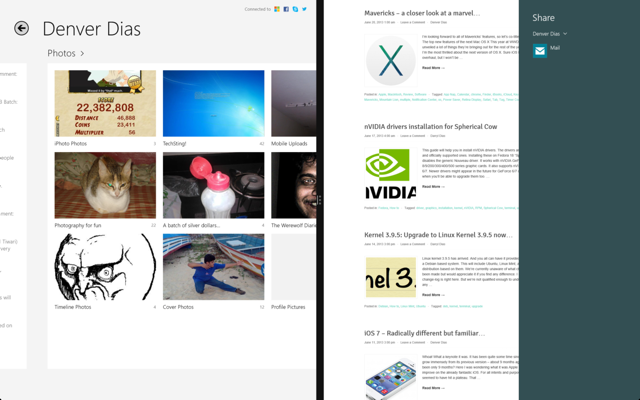 So, scrolling doesn't do anything to shift focus of charms. Only clicking does, i.e. in a mouse and keyboard environment.
Touch considerations
If this were done on a touch-screen device, obviously the last touched app would work with charms. This is because even a task such as scrolling would require you to touch the app.
On the other hand, simply hovering the mouse pointer shouldn't shift focus, because invoking charms would, logically, provide options only for the right most app.
Opinions
As far as I'm concerned, I'd like to have scroll requests triggering focus shifts of charms. This is the only way the differences between the two interfaces would reduce.
Closer look
On a closer inspection, we found that Windows now has an indicator for the focused app.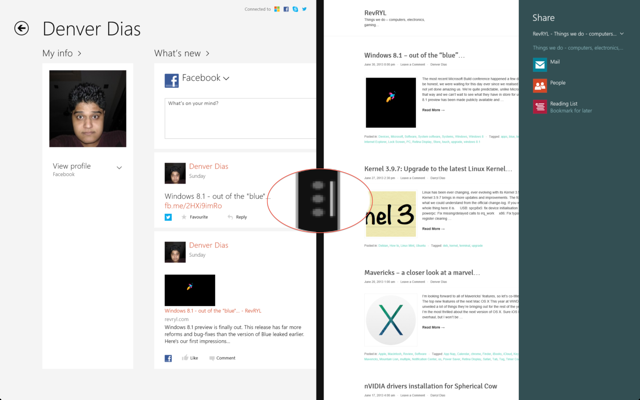 When we have more than two apps sharing the screen, both the adjacent splitters will endeavour to indicate the app under focus.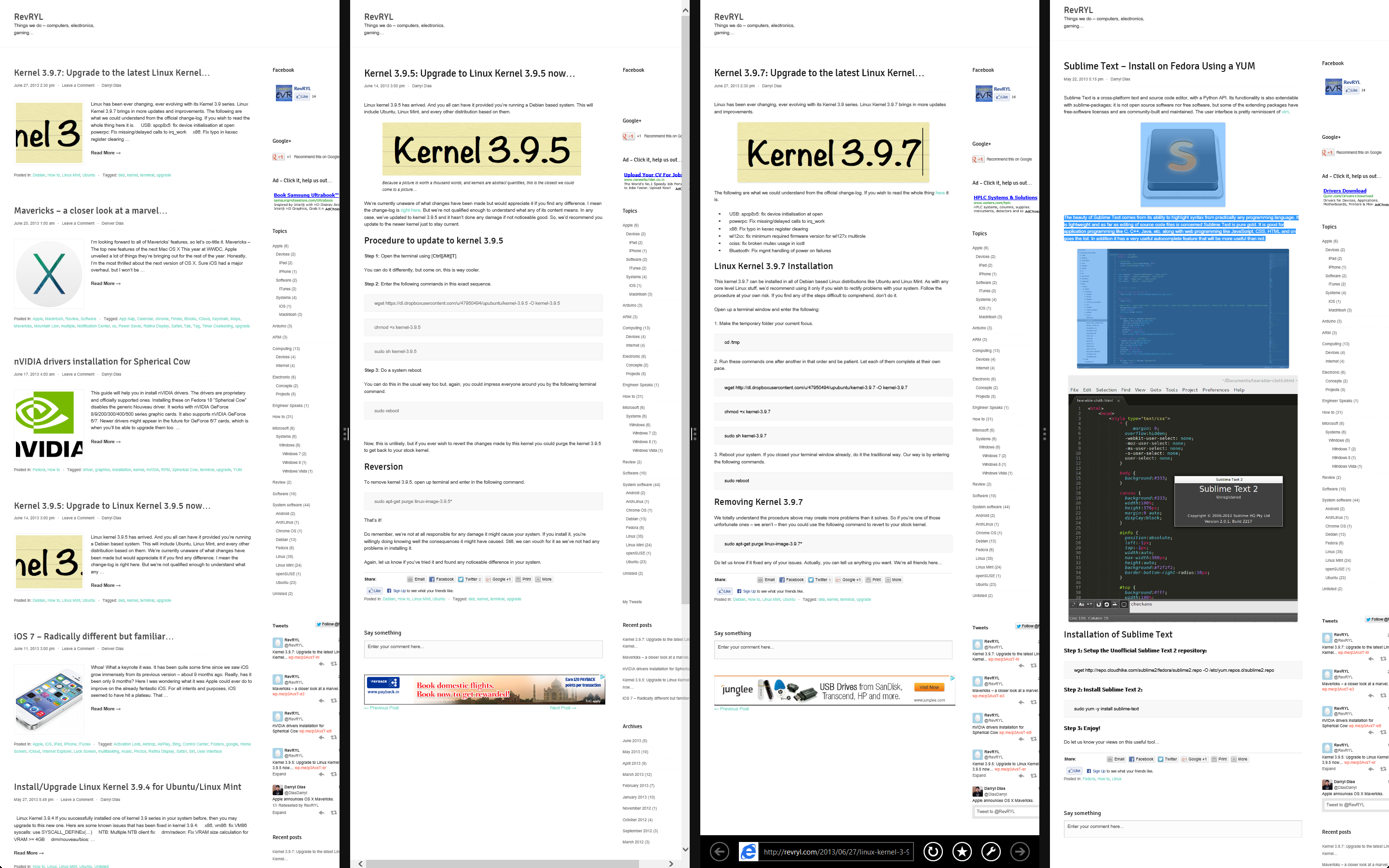 While we're on the subject…
There are some other changes made to Charms for easy accessibility. Charms are invoked by visiting the right corners of the screen. In Windows 8.1, all charms will be offset from its usual centre position to now be closer to the corner used to invoke it.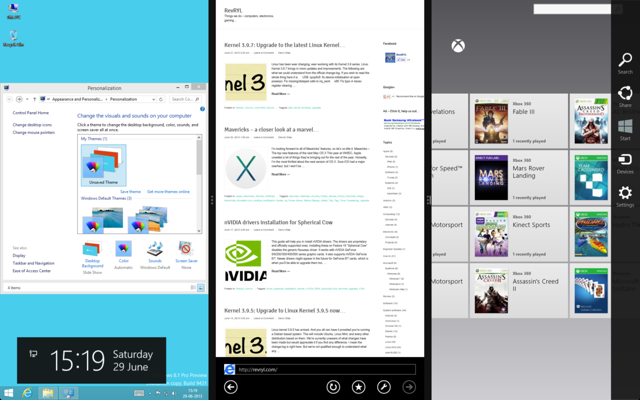 If I were to click on Share, it would obviously share from the XBOX app.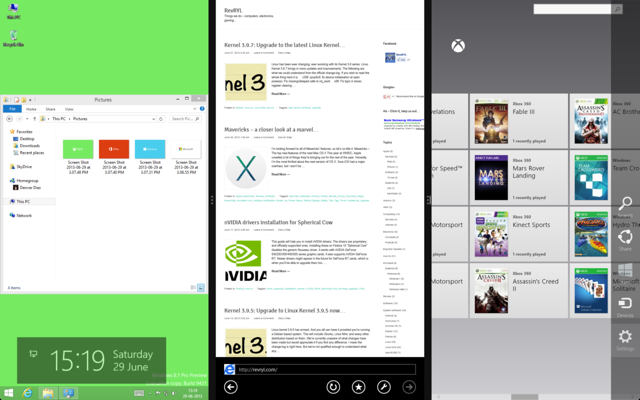 So, that's it with Charms. Do let us know your opinions about it. We would like to brainstorm ideas we could indirectly feed Microsoft for their further releases.